I am Associate Professor in Political Science at Lund University and the Director for the Africa Programme at Egmont Institute for International Relations, as well as the Editor-in-Chief for the academic journal International Peacekeeping. I'm also a Global Fellow at the Peace Research Institute in Oslo (PRIO).
I took my first class of International Politics in Swedish high school when I was 18 and I have been fascinated by trying to understand current events in international relations ever since.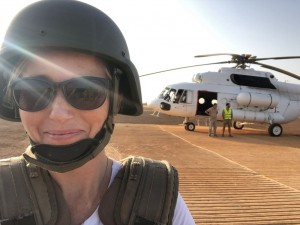 My research is driven by a curiosity to understand why and how states, institutions, and people change during and after armed conflict, with a particular interest in the military institution.
I've been doing research on two broader topics related to this theme over the past 15 years:
The first is different types of military interventions, but mostly I've been focusing on non-aggressive interventions or stabilizing missions, which have taken place with the consent of the host state, such as peacekeeping operations, and different types of security force assistance.
The second topic is the military institution per se, both externally, understanding the role that the military plays in contemporary society, what tasks and roles that is expected from it, and internally, how this supposedly closed, homogenous and conservative institution hosts a variety of different actors and hierarchies which makes it much more complex than what is often assumed.
My research contributions within these two areas have focused on the politics of Security Sector Reform (SSR) and Security Force Assistance (SFA), the domestic effects of troop contribution to peacekeeping operations, and the role gender structures and stereotypes play in the military institutions, with a specific focus on female peacekeepers.
I have published extensively on these topics in a variety of different academic journals, including International Affairs, European Journal of International Security, Third World Quarterly, International Peacekeeping and Gender, Work and Organization among others.
I have substantial experience with providing inputs – in the form of consultancies, reports, policy briefs, blog posts and talks/presentations – toward disseminating knowledge and informing policy-work, in Belgium and internationally. This includes, for example, research-policy engagements with the European Council, EU External Action Service (EEAS), the European Security and Defense College, the Ministry of Foreign Affairs of Belgium, Belgian Ministry of Defense, the French Ministry of Defense, German Federal Foreign Office, Foreign Commonwealth and Development Office, Folke Bernadotte Academy, International Centre for Counter Terrorism (ICCT), and the Oxford Research Group amongst other. I have also published several policy briefs and articles with organizations such as Egmont Institute, Institut Montaigne, Elcano, and news outlets like Washington Post, and World Politics Review.